Thanks for dropping by!

Please explore a bit, maybe listen to some music or a video or two. Or explore other projects linked here, like Songs for Environmental Education or Woman With A Chainsaw.
And...holy moley, what an honour...the latest album Think About the Wild been nominated for Children's Album of the Year by the Canadian Folk Music Awards  AND also received a nomination for the Children's Artist of the Year by the Western Canada Music Awards.
---
LATEST ONLINE APPEARANCES
TAKE ME OUTSIDE (TMO) DAY 2021
We had over 280 schools tuned in, for an estimate of over 6500 kids singing and moving along!! You can view the recording at the TMO website along with many other great videos including one with the wonderful and inspiring Jane Goodall.
From the Take Me Outside website: Take your learning outdoors! We encourage educators to spend 1 hour outside with their students learning, playing, and inquiring about nature and the great outdoors! Share your impact with us and over 250,000 students going outside on Wednesday Oct 20 across the country: use our hashtag! #TakeMeOutsideDay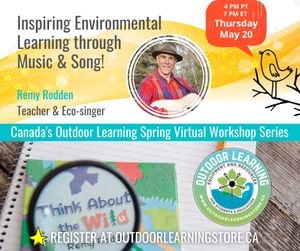 Music and EE Workshop
See the recording of a workshop hosted by Canada's Outdoor Learning Store and a plethora of partners... along with other great presentations on this page (or click the image --->). Workshop bonuses.
---
Featured Videos
Watch on YouTube
To mark the United Nations World Bee Day, May 20,
here is a lyrics video for a song featured on my latest album
Think About the Wild.

I encourage you to gather around with your kids to sing along and learn!
More information on World Bee Day.
---
"

[Remy's] ability to captivate students, perform for various sized audiences, and teach people about the importance of environmental perspectives is inspirational. His songs, environmental commentary, and performance presence are memorable. You won't be disappointed". "
— Mike Klassen, Principal, Rivers Collegiate, MB
---
This song included on the new CD as a bonus track:
"

Students had a blast! They were totally engaged!...I would not hesitate to invite Remy back to my school for future sessions. He'd be great at any school!"
— Lina Radziunas, VP, Holy Family Elementary, Whitehorse YT
"

Remy Rodden is a phenomenal environmental educator and singer-songwriter who is adept sharing his passion for the planet and inspiring young people to make a difference in their communities.... I recommend Remy to anyone looking for a different, entertaining and engaging approach to environmental education. "
— Geoff Green, Founder, Executive Director & Expedition Leader, Students On Ice