PAST LIVE SHOWS (FREE ONLINE)
---
OFFICIAL CD LAUNCH for the album "THINK ABOUT THE WILD"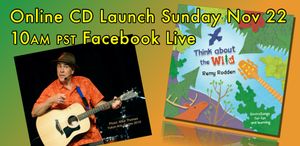 ---
AN HOUR-LONG CONCERT WITH THE YUKON ARTS CENTRE
the first half for kids, second half more for grownups....
REPLAY ON FACEBOOK (NO ACCOUNT NEEDED)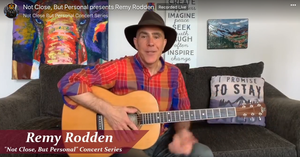 ---
And a #CANADAPERFORMS EARTH DAY SHOW
REPLAY ON FACEBOOK (NO ACCOUNT NEEDED)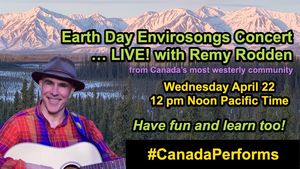 AND I'VE BEEN DOING ALMOST DAILY LIVE SONGS AS WELL
---
All the videos below ...and more! can be found at the Remy Rodden YouTube channel. 
I've performed for thousands of kids at Mayor's Environment Expo in Calgary over the years. Young people come here from all around the city every Environment Week. Here is a sweet, and spontaneous collaboration on "Three Simple Rules" with good friends Peter Puffin and Walter Macdonald White Bear.
Learning about wildlife, the environment and encouraging environmental action is what my songs are all about. Here's a short clip introducing "The Caribou Song" at Holy Family School in Whitehorse.
This video in French offers some beautiful views of the Antarctic Peninsula.  I had to sing quietly so as to not disturb the penguins! This episode was filmed on my second voyage to the southern continent as a musician and environmental educator with Students on Ice in 2011. 
This dance to the music of "What's That Habitat?" was part of a Dance for Wildlife contest by the Canadian Wildlife Federation. These gals do a fabulous job!